OMA BENIN SARL
Operational since April 2008, OMA Benin is now one of the leading vessel husbandry agents in the port of Cotonou. OMA Benin is the number one tanker agency operating at the port, and the first ship agency in Benin to be awarded the ISO 9001: 2008 accreditation.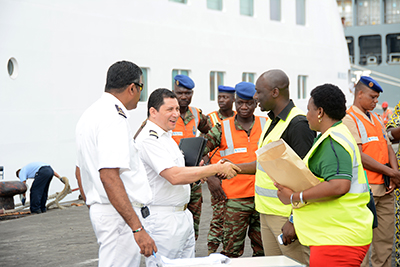 We act as liner agents for Hapag-Lloyd and also specialise in tanker agency and offshore logistics support, dry bulk, tramp, navy and cruise vessel agency.
Sister company, OMA Logistics Benin works as your local partner and is a licensed Customs House Agent. We offer logistics solutions in Benin, Niger and other neighbouring hinterland countries.
SETTING THE STANDARDS IN BENIN
We are committed to conduct our business activities in a responsible, transparent and ethical way, and a TRACE certification process is undertaken every year. We meet and comply with the local content regulations.
Through major investments in staff, resources and internal & external training, OMA Benin has developed International QHSE policies and an Integrated management system based upon ISO 9001:2015 and EMS 14001:2015 for which we are certified and audited annually by DNV GL.